Latest News
Details
Everybody is going through a hard time right now, so we've decided to make you a little present to help you to go through the quarantine and to make you dive into a fantasy world for a moment... That's why we've decided to release the full audio books (in English or French) for free on Youtube!
This audiobook is taken from the new concept album "Worlds" of our symphonic metalheads Fourth Circle which has been released last month. All the music, artwork and story are made by the band. You can listen to this audiobook in 🇬🇧English or 🇫🇷French on our darkTunes Youtube channel. We hope you will like it!
You can support the band & darkTunes and buy the new Album here:
🇬🇧AUDIOBOOK IN ENGLISH
🇫🇷LIVRE AUDIO EN FRANÇAIS
Details
Our synthwave duo BLACKBOOK from Switzerland is back with the new single & lyric video which will instantly be engraved in your mind! Enjoy ❌PEOPLE ARE FAKE ❌!
If you still don't know BLACKBOOK: One half of the duo is responsible for various radio hits which are still among the most played Swiss songs, as well as the title song of a successful international NETFLIX series.
The other half works as a musician for several of the best-known acts in the Swiss music scene. His history as a songwriter and producer includes numerous chart successes, including several best-selling Swiss singles, a number 1 hit in Luxembourg and several top 50 successes in Germany.
Get the new single now here:
Details
DUST IN MIND LIVE AT THE OPERA
Dear metalheads, we are extremely proud to present you the new Dust In Mind live album "Live At The Opera"! The band recorded it in one of France's most beautiful opera in Strasbourg. Enjoy and share it ❤
Download & stream it here 👉 https://smarturl.it/LiveOpera
Details
Welcome to the Multiverse, where epic Tunes and electronic elements encounter hard Riffs, and where the charming voices of Lucille Nightshade and Hydra are carrying the ears and hearts of their fans from the third to another dimension.
The members of AEVUM from Italy and France have, since their foundation in 2012, developed a musical style that always was bound to their strong influences of Symphonic Metal, yet breaking the bonds of the genre, by thinking outside of the box.
The glorious new album of AEVUM is named "Multiverse" and follows the footsteps of Bands like NIGHTWISH, WITHIN TEMPTATION, EPICA and more. Love and affinity towards symphonic Sounds, lifeblood, imaginativeness and much more has to be mentioned to handle such a task. And yet, the 8 musicians from France and Italy undeterredly follow that path, while they are firing a salvo of 13 powerful tracks consisting of guitar-riffs meeting skincrawling orchestral and electronic elements.
AEVUM are integrating themselves seamlessly into the force of nature of symphonic metal. So, who doesn't miss to listen to "Multiverse", will surely find a lot of enrichments for his personal favourite-list.
Get the new album MULTIVERSE as digipak, collector bundle or download  and stream here:
Details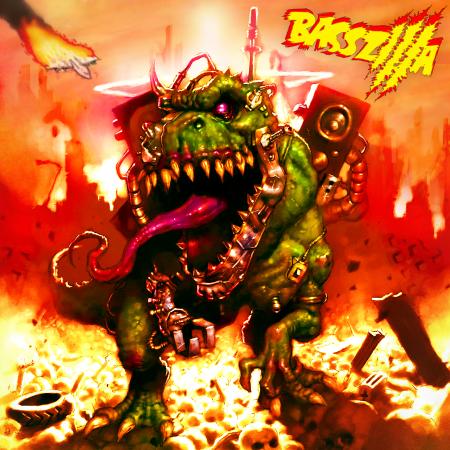 Our bass monster Basszilla and our darkpop queen Maria Mar of Omnimar joined their forces to create a new masterpiece!
This song is called "Ghost In My Head" and comes with a wonderful music video which has been recorded in 3 countries: France, Germany and Russia!
This song will appear on BASSZILLA's new double album "Support Your Local Apocalypse Dealer" and of course this first single is OUT NOW!
🔥BASSZILLA - SUPPORT YOUR LOCAL APOCALYPSE DEALER🔥
(release on May 22nd. 2020)
👉 https://smarturl.it/Basszicalypse
From the depths of the electro-swamps the monster arises another time: BASSZILLA is awakened once again! The king of monsters is stomping relentlessly across the dancefloors of Death Electro, Complextro, Nu Rave and Dark Techno with industrial house influences and presents itself darker and more grimly than ever before. Since the monstrous music-project (awoken by the Extize frontman) has charged the clubs for the first time in 2014 and after three releases and some memorable DJ Sets, like the one with WESTBAM among others, the dancefloors around the globe are still burning. But like in every good monster-story it also applies to BASSZILLA: The evil does never sleep! And so, it is clear that also this time the bass-monster awakes to life again and causes an electro-quake extraordinaire with his new album "Support Your Local Apocalypse Dealer".
Twenty tracks influenced by bands like CYBERPUNKERS, DIRTYPHONICS, INFECTED MUSHROOMS, OWL VISION, GESAFFELSTEIN and NERO are shaking the dancefloors to the very foundation and bring the party-crowd to dance like mad! The beauty and the beast can go hom, because you will also find an awesome featuring with the darkpop queen of OMNIMAR on this album. Again, BASSZILLA provides us with monstrously good temper and easily manages it to promote the evolution of his own style without losing his unique sound.
Mankind has failed in stopping BASSZILLA with conventional weapons, this monster of the beats is no ordinary one: He is BASSZILLA, hear his bassline roar! Nobody can escape the bass-beast and whoever loves electronic sounds will surely not be able to elude from the deep rumble and screams of BASSZILLA on his new album!
FORMATS: 6 sided digipak with 2 CDs (limited to only 200 units worldwide), girly collector bundle, man collector bundle, download and stream.