Latest News
Details
💥BASSCALATE - WIR DREHEN AUF💥
The new BASSCALATE single is OUT NOW!
Dear beats junkies, BASSCALATE (side project of the SynthAttack frontman) are back with a nasty new single, and it's gonna be loud... VERY loud...
"Wir Drehen Auf" makes no compromises... And this track doesn't come alone, you will also have to dance hard on its TEKNOVORE remix!
Get the it now on:
Details
HELLCOME WHITE RITUAL 🤘
We're very excited to announce that WHITE RITUAL joined the darkTunes Music Group family!
Shake up the French electro scene landscape: this is the mission of WHITE RITUAL. This darkwave foursome from Strasbourg sweeps away the stereotypes that restrict their musical world to the 80s goth scene. In tune with the now, the sounds of WHITE RITUAL offer up an alternative to the old clichés thanks to an impressive musical cocktail that mixes vocals, synths, guitar and drums. The group was formed in January 2019 thanks to the man behind the White Ritual project: Ricardo Gomes, ex-singer of the metal group Absurdity and composer/producer better known as zNo.
Click HERE to read more infos about them!
Click HERE to follow them on Instagram!
Click HERE to follow them on Facebook!
Details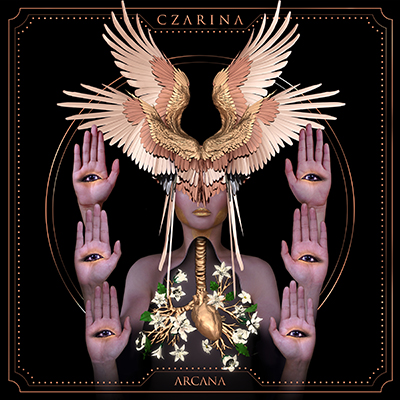 Galicia, Spain-based New York native and dark electro artist, CZARINA (styled as C Z A R I N A on all platforms) has released her highly anticipated sophomore LP, Arcana, under German gothic label darkTunes Music Group. Cosmic, mystical, yet also feral and ferocious in nature, Arcana (meaning "mysteries" or "secrets" in Latin) is a celebration of epic proportions of nature, life, love, wisdom, faith, survival, consciousness, truth, the laws of the universe, and one's own completion. The record showcases the vast dynamics and full range of CZARINA's songwriting, composition, production, and artful lyricism, and has been meticulously crafted to mirror and articulate the mysterious depths and facets of the artist's mind and spirit.
Each track in Arcana harnesses an eclectic mix of dark electro, synthpop, orchestral baroque pop, gothic new age, and progressive rock into one, cohesive and thoughtfully designed sonic signature that is both ethereal and heavy-hitting, and has become CZARINA's very own hallmark sound. The album embraces mysticism and starts with the progressive rock and new age number "Celestial Satellites" - a ritualistic call on all forces of nature and the cosmos, featuring thunderous drums, a medley of tribalistic gothic chants and arpeggiated guitars against a backdrop of symphonic synths which all create the marquee soundscape throughout the record. Her critically-acclaimed, chamber-infused synthpop single, "Wonderland," follows as a special ode to her newly adopted home in Galicia, which she refers to as her "sacred wonder" and sanctuary of magic and mysteries. The electrically-charged industrial, gothic club hit "Atomic: Ad Initivm" surges in like a nuclear dynamite, followed by the monstrous art rock number "Excelsior" which takes listeners to new heights with tantric polyrhythms, odd meters and eclectic vocal, guitar and drum performances by the artist rendered into one continuous, giant crescendo crashing wave upon wave. CZARINA takes audiences further into a world of magic and spirit with the delicate Winter Solstice offering, "The Fox's Wedding" — an organic and symphonic orchestration of wondrous love and spiritual union only the universe could conspire to design as inspired by East Asian folklore the track was named after. Then Arcana takes a very mysterious turn with the baroque and chamber electro "Medusa" - a dark incantation inspired by the famous Greek myth that calls for all hidden truths to be unveiled. CZARINA pays homage to gothic icon Siouxie Sioux and covers the dark, apocalyptic vision in "Cities In Dust" with cinematic orchestral arrangements, giving the darkwave classic her own signature imprint. The record reaches its summit and enters post-apocalyptic realms with "Lost Lands." Inspired by Denis Villeneuve's Dune remake, "Lost Lands" rumbles in its thunderous, progressive metal treatment, cinematic soundscapes, and valiant lyricism that harkens bravery in the face of calamity. The record finishes off in a cosmic trance with a final journey to outer space in "Til The Last Star: Cosmos" - a sentimental, spacewave pop ballad about traversing the ends of the universe for a chance for true love.
All songs in Arcana were written, composed, arranged, performed, recorded and produced by CZARINA in her home in Galicia, except for "Cities In Dust" which was originally written by Siouxie Sioux, Budgie and Steven Severin. Von Hertzog (VHxRR, Information Society) of The Social Club (Reading, PA) served as Co-Producer, Mixing, and Mastering Engineer, providing additional production input and final touches to finesse the large dynamics of CZARINA's new sound. The album art and all visuals were created by DeadlyKawaii and CZARINA together.
Arcana is available as a special limited edition CD package featuring all 9 tracks on Bandcamp and darkMerch.com. The digital release includes a bonus instrumental track of "Lost Lands" and is available for download and streaming on all platforms. In celebration, the record release is accompanied by a special limited distribution of CZARINA's very own branded Smoked Black Rosé Cider also called ARCANA, handcrafted and distributed by Skald Cellars (PA) in the US only. The record will also be followed up with a series of new music videos which will be released throughout the year under darkTunes Music Group.
CZARINA is Vero Faye Kitsuné, an award-winning electronic and rock musician, producer, songwriter, filmmaker, visual artist, creative director, designer and an esteemed fashion industry veteran originally from New York City. Known for her multi-disciplinary approach, avant-garde conceptual narratives and elevated aesthetic, CZARINA combines transcendentalism and new age mysticism with her love for futurist culture, cybernetics, biomechanics, art and ancient history, mythology, folklore, high fashion and the discipline that comes with her Budo martial arts training.
Get the limited deluxe digipak (including 12 Arcana cards) and the bundle with an exclusive t-shirt now on:
Details
💥FALLCIE - ON A LEASH - NEW SINGLE & VIDEO OUT NOW💥
Here is the fourth single "On a Leash" of the hottest upcoming album of the year: 'Volcano' by FALLCIE!
Thunderous growls meet intense and clean vocals within the music of the Russian female fronted extreme metal band FALLCIE. Get ready to bang your head hard and enjoy this more than great music video!
Get the new single "On a Leash" and preorder the new album now on:
Details
HELLCOME FREAKY MIND 🤘
Friends, we're more than happy to announce that the Russian dark electroheads FREAKY MIND joined the darkTunes family! Get ready for high quality dark and melodic electro industrial with a smart aggrotech touch!
Click HERE to read more infos about them!
And Click HERE to discover their music!