Latest News
Details
XORDIA - STAINED - The new single & video taken from the upcoming album "Neolux"(release on June 5th.)
The neon light revolution is coming. It's the dawn of a new era. Everything you believed in is no longer relevant. Welcome to a nu-metal science fiction story set in a cold and threatening cyberspace environment, which serves as a breeding ground for the energetic anthems of this new album.
End Time Metal, a powerful female voice, groovy Nu-Metal riffs and madhouse industrial synths unite on "Neolux" to an explosive sound cocktail. As in a good book, XORDIA's metalheads make sure that the 12 tracks they recorded never lack the momentum necessary to build up suspense. With "Neolux" they created a futuristically catchy and shrill, but still extremely profound piece of contemporary ar, which sounds as if WILLIAM GIBSON had thrown a few pills and then invented Industrial Metal.
Overall XORDIA present with their first album "Neolux" in 2020 a captivating mix of electronic melodies à la CELLDWELLER and GUNSHIP, groovy guitars in the style of KORN, heavy beats and breakdowns reminiscent of IN THIS MOMENT, and combine these effectively with Alyn's versatile vocals.
When the stroboscope flashes dance like crazy through the neon-soaked night of the modern metropolis, the Swiss celebrate their dystopian dance. And lead the listener equally threatening and thrilling into the depths of the human psyche. At times thoughtful and spherical, at others hard and relentless, they invite you to forget everything for the moment. With "Neolux", the five-piece group definitely turns on a new light in the Metal sky.
Details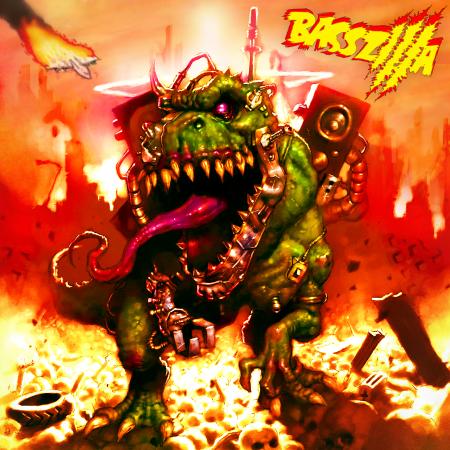 Our bass monster is back with a new single and music video!
The song "RetroGods" is taken from his upcoming double album "Support Your Local Apocalypse Dealer" which will be released on May 22nd!
👉 https://smarturl.it/Basszicalypse
From the depths of the electro-swamps the monster arises another time: BASSZILLA is awakened once again! The king of monsters is stomping relentlessly across the dancefloors of Death Electro, Complextro, Nu Rave and Dark Techno with industrial house influences and presents itself darker and more grimly than ever before. Since the monstrous music-project (awoken by the Extize frontman) has charged the clubs for the first time in 2014 and after three releases and some memorable DJ Sets, like the one with WESTBAM among others, the dancefloors around the globe are still burning. But like in every good monster-story it also applies to BASSZILLA: The evil does never sleep! And so, it is clear that also this time the bass-monster awakes to life again and causes an electro-quake extraordinaire with his new album "Support Your Local Apocalypse Dealer".
Twenty tracks influenced by bands like CYBERPUNKERS, DIRTYPHONICS, INFECTED MUSHROOMS, OWL VISION, GESAFFELSTEIN and NERO are shaking the dancefloors to the very foundation and bring the party-crowd to dance like mad! The beauty and the beast can go hom, because you will also find an awesome featuring with the darkpop queen of OMNIMAR on this album. Again, BASSZILLA provides us with monstrously good temper and easily manages it to promote the evolution of his own style without losing his unique sound.
Mankind has failed in stopping BASSZILLA with conventional weapons, this monster of the beats is no ordinary one: He is BASSZILLA, hear his bassline roar! Nobody can escape the bass-beast and whoever loves electronic sounds will surely not be able to elude from the deep rumble and screams of BASSZILLA on his new album!
FORMATS: 6 sided digipak with 2 CDs (limited to only 200 units worldwide), girly collector bundle, man collector bundle, download and stream.
Details
Mystical darkwave soul made in Germany!
Ladies & Gentlemen, we're proud to present you the new EP "Trapped Heart" of our latest signing TOAL!
Dark synth soundscapes caress her body, pumping basses break the silence, the deep beat of the night accompanies her every step. The heartbeat of longed-for liberation throbs in her chest, waiting to break the chains of emotional captivity. Luzi Lacole's fiery voice ignites the longing for a common path, a new beginning, a campaign against mechanized petrifactions. TOAL's multi-faceted style can be classified into three differing genres. A mystical-spherical New Age ambient mix meets dark post-apocalyptic end-time industrial. Varying TOAL refine their sound landscape partially with Dark Electro, Dubstep and Witchhouse influences. The musical origins of the individual band members allow the listener enormous scope for their own interpretations due to their individuality. In short, the songs deal with the reality of the soul, with the longing for being alive, for truth and for hope.
You can get the new EP "Trapped Heart" as download or streamd here:
Details
The freaks are back with a new album and video! Hell is gonna turn into a pink orgy full of glitters!
Let's introduce the band. The composer, Mac-F, air guitar and dog masks fan. The Diva Duchess, Charlie Red, addicted to spike jackets. A cat raised by sharks addicted to sub frequencies. A cute mogwai that mutates to a devilish gremlin hitting frantically its drums. From their mystic encounter on a full moon night is born FREAK INJECTION.
After their first single and acclaimed video "Psycho" (Arte Tracks: Greedily Psycho; MyRock magazine: what a crashing show!), FREAK INJECTION issued during summer 2017 its first EP "Freak in Fashion", a hybrid pop-rock-electro piece of art. Rock & Folk magazine fully got the concept and branded the band as "sulfurous elegance". Since then, the band has played many live shows for their "Evil Raccoon Tour". Their shows have shocked people with heavy beats, unicorn inspired riffs, crazy dancing raccoon and flying plastic pink flamingos. In 2018, FREAK INJECTION opened for Belgium electro combo VIVE LA FÊTE and for cult industrial band MINISTRY in Bordeaux.
Indeed FREAK INJECTION is above all a live band, with a show embracing freaks of all kinds, referring to ambiguous performers like DAVID BOWIE, aliens and their sex friends, pink blood and kawai unicorns. The music is inspired by THE PRODIGY, NINE INCH NAILS, DIE ANTWOORD, NINA HAGEN, MADONNA and MARILYN MANSON. Even if the band reckons some help from some cosmic entity, with the ambition of playing in a galactic concert, their sound has already reached outside of France: live show in Belgium, radio play in England and Italy, articles in the Dutch and German press. The Freaks have even got a nice message from Richard Patrick, guitarist of the American band FILTER: «Holy Shit, look at this video! You guys are awesome ».
You can get the album as limited digipak, stream, download or in one of our 4 limited collector editions here:
Details
Our Greek goth rock act THE BLACK CAPES returns with their new album "Lullabies For The Dead" which includes this amazing cover of the hit "Rain" of THE CULT. Enjoy!
You can get the album as digipak, stream or download here: