Latest News
Details
 BLACKBOOK - Confessions Of The Innocent
A fence battle between emotions and melody! In their new debut album 'Confessions of the innocent', the Swiss-Dutch Duo BLACKBOOK creates sound worlds full of emotions and intensity by combining the heart of 80s new wave with a modern synthpop soul, a fusion so intriguing that it keeps you hitting repeat over and over again!
The album holds catchy songs tackling topics from all aspects of life, such as the internal struggles of the mind palace to the ineffable truths of society! Love, shame, rebellion, change. This album showcases every topic with its perfect 80s/90s wave soundtrack. The many layers and facets of their music, have the power of bringing you back to your sweetest memories with songs such as 'My Beautiful Witch' as well as challenge you intellectually with 'Love Is A Crime', a song about the current topics and struggles of equality in love.
BLACKBOOK was founded by two well established artists of whom one part of the duo is responsible for many radio hits as well as for the title song to a successful Netflix series and the other one keeps busy as a musician with projects that have been claiming the top of the charts in Europe. Their influences reach from indie pop, electropop, jungle, darkwave and EDM over to the worldwide celebrated band DEPECHE MODE which gives their music a very special flavour that will leave you wanting more!
Uncross your sabres and let down your guard for the unparalleled duo BLACKBOOK and their powerful new debut album 'Confessions of the innocent'.
 GET THE ALBUM NOW 👉 https://bfan.link/COTI
COLLECTOR BUNDLE AND LIMITED DIGIPAK 👉 https://www.darkmerch.com/blackbook
Details
☽︎ 🅆HITE 🅁ITUAL - Fall & Rise ☾
Just after dropping their debut album "In & Out", WHITE RITUAL are back with a very sensual music video! Enjoy "Fall & Rise" !
Wicca, Mysticism and electric atmospheres. This is what WHITE RITUAL stands for. Shaking up the french electro scene landscape is WHITE RITUAL's main quest! This darkwave foursome from Strasbourg sweeps away the stereotypes that restrict their musical vision of the 80s goth scene. Breaking old cliches of the darkwave scene, the French band with industrial, altpop and witchhouse influences takes inspiration from renowned artists such as KILLING JOKE, FKA TWIGS and CHELSEA WOLFE and mixes these with their own thrilling beats and melancholic melodies. Their lyrics dive into the complexity of human nature, life, love and death. A storytelling journey filled with mystery and magic.
Their new album 'In & Out' is the perfect example of their musical brilliance. The first song on the tracklist called 'Isis' immediately puts you in a dream-like state, in which you follow the whispers of frontwoman Coralie Setan into another world. The world of WHITE RITUAL. 'Light Glass' is an ode to the inevitable. The inevitable end of everything. The haunting vocals and melodic synthesisers support the deep lyrics and bring the song to life.
Details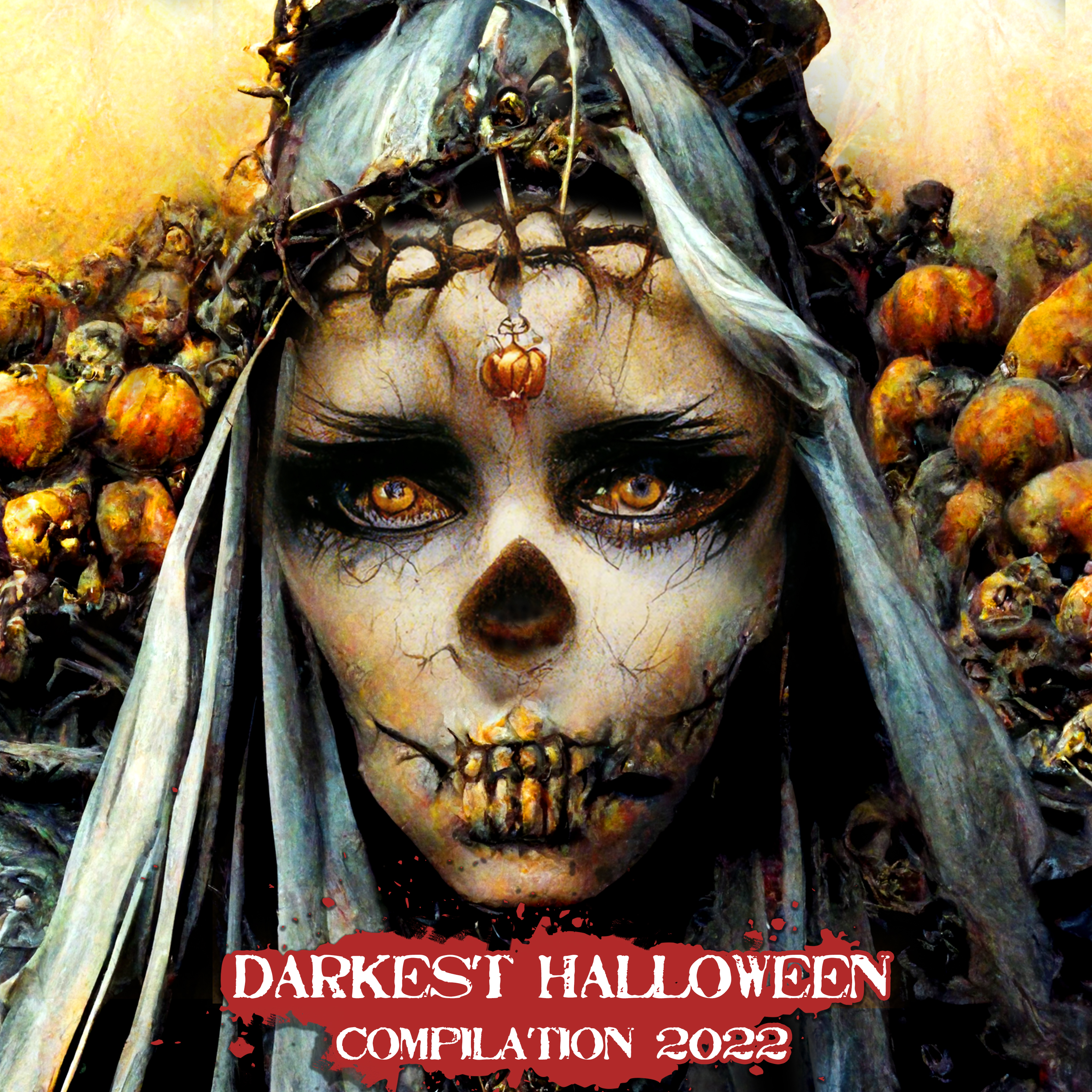 35 metal & gothic songs for the loudest Halloween ever! Get the our new compilation now on:
The summer is finally gone, and the shadows already begin to grow longer. So do the nights! But as nights are not most scary, if they're long, but if they're dark, there might be no darker one in the year but that of fading October. So let us celebrate with you, what others fear! Your most hollow soundtrack, presented by darkTunes, will break the tranquility of the night! So make this night the loudest of the year, and enjoy our latest compilation: Darkest Halloween 2022!
With the following bands:
BLACKBOOK + EXTIZE + AGNIS + SYNTHATTACK + HER OWN WORLD + WHITE RITUAL + FREAK INJECTION + OCTO CRURA + FALLCIE + AMORE AD LUNAM + C Z A R I N A + CATTAC + FREAKY MIND + VVMPYRE + ANTIBODY + BASSCALATE + BASSZILLA + DANCE MY DARLING + DARKCELL + MORGENSTERN + NU-NATION + OCEAN DARK + AEVUM + OMNIMAR + TOAL + ASHES'N'ANDROID + SUPPRESSOR + THE SILVERBLACK + SICKRET + BREED MACHINE + SMASH HIT COMBO + CERNUNNOS + TOPHET + DUST IN MIND
Artwork made by an artificial intelligence.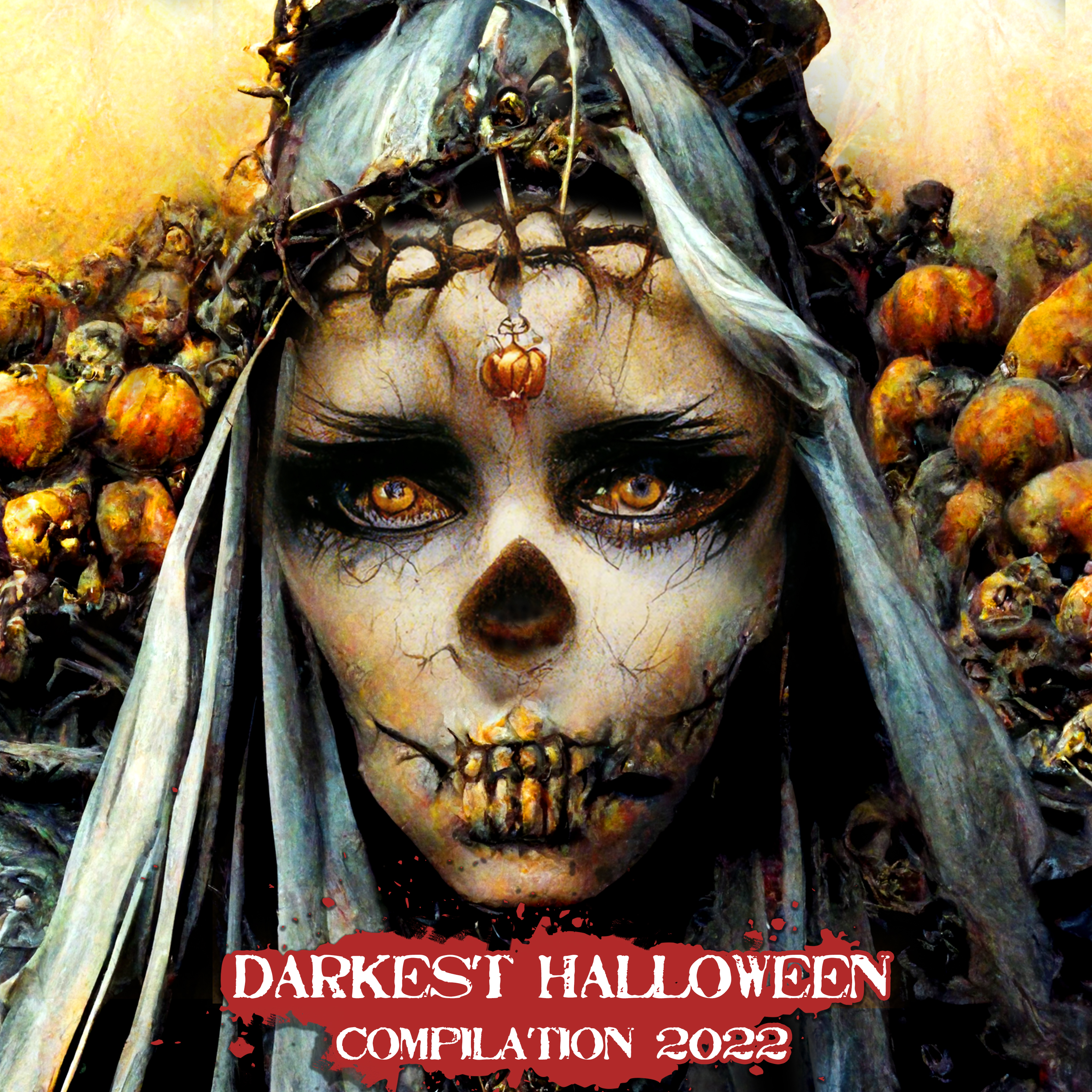 Details
Like a thunderstorm, conjured up by ancient gods, the first single "Anacaona" of the upcoming third album "Compelle Intrare" by CHABTAN thunders up. Noisy guitars and plenty of double bass meet panpipes and Mesoamerican percussion on the latest work of the French Metal combo.
This rumbling mix of musical influences are combined to an unexpectedly impulsive sound carpet. CHABTAN adds a new exciting facet to the metal genre with this fiery mix of sounds. In doing so, CHABTAN unleash a true elemental force, as though bands like DARK TRANQUILLITY, AMON AMARTH, IN FLAMES, MESHUGGAH and SCAR SYMMETRY have been swallowed by a sinister jungle, and hammer their instruments out of its depths from then on.
Since 2011, Metalheads from Paris celebrate their sound and the band have already been on tour with heavyweights like NILE and SUFFOCATION. On "Compelle Intrare", CHABTAN celebrate their crunching and uncompromising sound over eleven tracks. "Compelle Intrare" evokes the colonization of Mesoamerican peoples by the Spanish conquistadors.
Get this song and preorder the new album on https://bfan.link/compelle 
Details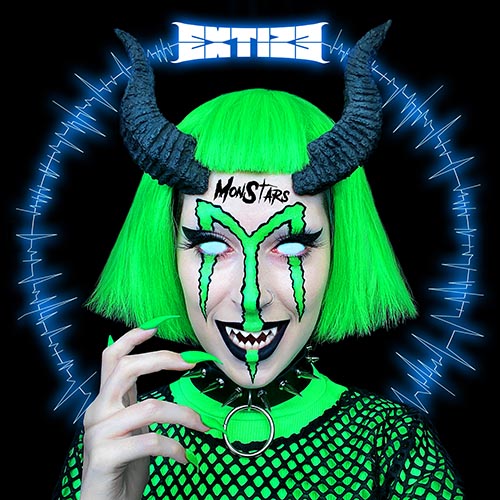 One, two, three and four – new EXTIZE album at your door! An electrifying musical tribute to the most iconic horror and sci-fi movies! 
Get this sensational musical horror experience that will even make the skeletons in your closet dance! Available as digipak, audio cassette, collector box, collector bundle, download and stream now on:
Welcome to the MONSTAR(S) party of the year, kickstarted by the one and only dreamboy Freddy Krueger and his darkwave anthem! The dancefloor makes room for the xenomorph queen of this evening and her cyberpunk dance, followed by the beloved wasteland warrior Mad Max who's here to spill some fuel and light the scene up! Anyone brave enough to ask cyberpunk chick Carrie out? Don't worry, she doesn't bite. But she might set you on fire. Not to mention that every good party needs great entertainment and ours appears to be a clown from Rob Zombie's 'House of 1000 corpses'! Show them your smile Captain Spaulding! Who's that little girl dancing to industrial techno, you ask? Come closer and I 'm sure that our little Esther will introduce herself…
The gates of the underworld open for our 'Hellraiser' celebrity guests who arrive with a dark electro 'Pinheadbanger' to keep you rocking out! The mic gets taken over by Ash from Evil Dead who is telling a story about the Necronomicon! If you spot some zombies after that, just ignore them! Need a break? You can visit the 'Blair Witch' in the forest behind the club for a 'Coffin Rock' session with intense industrial baroque music. Attention ! It's close to midnight! Please keep your 'Gremlins' away from the food to ensure safety and order! The gothic rave continues with a dance off between the 'Predator' and 'Chucky' the murder puppet! 'Chucky' shakes the club up a bit with his 90s french hip hop track, a genre that hasn't been heard in the EXTIZE universe before! A night so memorable that you will have goosebumps even 28 days later!
Not only is this concept album a sensational tribute to the horror and sci-fi stories from the 80s all the way to the 2000's that frontman Cyb3rella grew up with, but it's also going to be released as a digipak with 3D glasses and 3D booklet to properly take you back in time and make your listening experience even more exciting! As a bonus, EXTIZE is also releasing a collectors edition in the form of a VHS box with an audio cassette version of the album and many goodies from the movies that it's about! As a treat, the band has also added a bonus track to the cassette called 'Dusk' inspired by the movie 'From dusk till dawn'!
Surrender to the amazing world of sci-fi and horror but remember: Always be afraid of the monsters…