Latest News
Details
CERNUNNOS - CAPRICORNVS
The new videoArgentina's best folk metal band!
CERNUNNOS are back with a new music video called "CAPRICORNVS" (taken from their latest album with the same name)! Let them take you in their mystical world full of loud electric guitars, powerful growls, crystal clear clean vocals, and of course bewitching traditional folk instruments! Get it now on:
Details
🔥THE BATTLE OF METAL VOL.7 COMPILATION🤘
☞ WE WANT YOU!
Are you in a metal band? We are looking for great metal tracks (Death, Black, Industrial, Thrash, Viking, Groove, Power, Metalcore or nu metal, all kinds of metal music!) for our new compilation "The Battle of Metal Vol.7"!
Send us your best track to This email address is being protected from spambots. You need JavaScript enabled to view it. (.mp3 or .wav file as download link, no streaming links!)
DEADLINE: February, 28th. 2022 (12:59 pm CET)
The sampler will be distributed and promoted by darkTunes in more than 300 mp3 stores and streaming services world wide, you'll get slots in our Spotify metal playlist with more than 28k subscribers too, and the compilation will be teased on our Youtube channel with 130k subscribers, so thousand of metal heads on the world will listen to your music! We are excited to listen to your sound! Horns up and let's fight!🤘
PS: Last but not least, it won't cost you anything!
PS 2: Check "The Battle of Metal Vol.6" here:
Details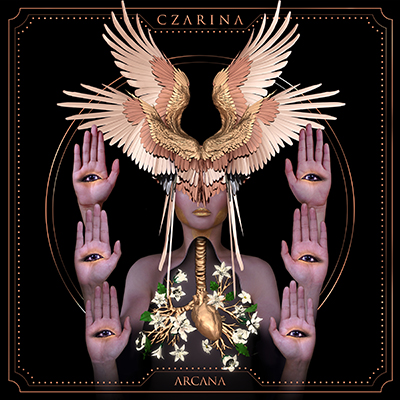 Happy Lunar New Year, Everyone!
We are proud to announce the Pre-Order for CZARINA's sophomore record, ARCANA (Release: Feb 22) which was nearly 2 years in the making!
Cosmic, mystical, yet also feral and ferocious in nature, Arcana (meaning "mysteries" or "secrets" in Latin) is a celebration of epic proportions of nature, life, love, wisdom, faith, survival, consciousness, truth, the laws of the universe, and one's own completion. Each track in Arcana harnesses an eclectic mix of dark electro, synthpop, orchestral baroque pop, gothic new age, and progressive rock into one, cohesive and thoughtfully designed sonic signature that is both ethereal and heavy-hitting, and has become my very own hallmark sound.
We are also extremely excited to offer her very first physical merch that showcases the grand universe within Arcana, all available for Pre-Order.
Get the limited deluxe digipak (including 12 Arcana cards) and the bundle with an exclusive t-shirt now on:
Details
Dear metalheads, we're proud to present you the new video and single "Holy Alix" of AEVUM !
This is the third single of the upcoming album "Glitch" of our metal combo from Italy. If you're into industrial and symphonic metal, you should listen to this banging track which shows the beginning of the evolution of AEVUM's sound. A new era is beginning now...
Get "Glitch" now on:
Details
💥DANCE MY DARLING - IT'S MAGIC - NEW SINGLE & VIDEO OUT NOW💥
Ladies and gentlemen, we're pleased to present you the new single of our darkwave duo from Moscow DANCE MY DARLING.
Enjoy! Get it now on: