Latest News
Details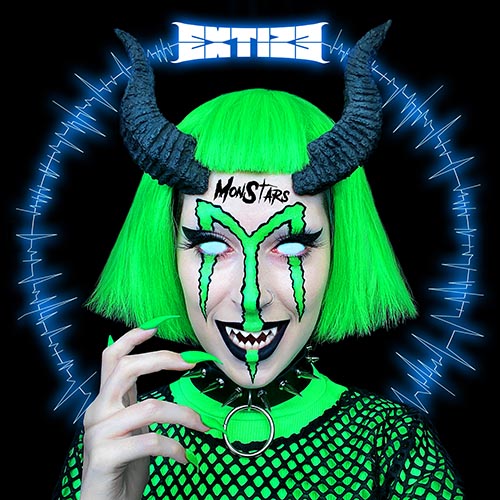 Exactly 1 month after the release of their new concept album "MonStars", EXTIZE drops another music video 
Get ready for a walk in the forest, let's go to coffin rock and meet the Blair witch.
This song is taken from the album "MonStars" which is available now as digipak, audio cassette, collector box, collector bundle, download and stream:
Details
FREAKY MIND are back with a new secret weapon in the Dark Electro, Industrial and EBM genres! Their new album is also called "Freaky Mind" (release on November 25th.) and "Where is my mind?" is the third single of it.
Confident, dark, energetic and hitting the nerves of a whole generation: this dark electro duo convince the audience with fat beats, cutting synths and powerful vocal parts and creates a unique soundtrack that will make everybody stomp and dance!
Get this song and preorder the new album on https://bfan.link/freakymind 
Details
In the Matrix the night is bright. In the Matrix our minds will be free!
Will you chose the right pill and enter into OMNIMAR's Matrix? Get ready for a trip into the cyberspace, enjoy with this new EP and video...
Details
 BLACKBOOK - Confessions Of The Innocent
A fence battle between emotions and melody! In their new debut album 'Confessions of the innocent', the Swiss-Dutch Duo BLACKBOOK creates sound worlds full of emotions and intensity by combining the heart of 80s new wave with a modern synthpop soul, a fusion so intriguing that it keeps you hitting repeat over and over again!
The album holds catchy songs tackling topics from all aspects of life, such as the internal struggles of the mind palace to the ineffable truths of society! Love, shame, rebellion, change. This album showcases every topic with its perfect 80s/90s wave soundtrack. The many layers and facets of their music, have the power of bringing you back to your sweetest memories with songs such as 'My Beautiful Witch' as well as challenge you intellectually with 'Love Is A Crime', a song about the current topics and struggles of equality in love.
BLACKBOOK was founded by two well established artists of whom one part of the duo is responsible for many radio hits as well as for the title song to a successful Netflix series and the other one keeps busy as a musician with projects that have been claiming the top of the charts in Europe. Their influences reach from indie pop, electropop, jungle, darkwave and EDM over to the worldwide celebrated band DEPECHE MODE which gives their music a very special flavour that will leave you wanting more!
Uncross your sabres and let down your guard for the unparalleled duo BLACKBOOK and their powerful new debut album 'Confessions of the innocent'.
 GET THE ALBUM NOW 👉 https://bfan.link/COTI
COLLECTOR BUNDLE AND LIMITED DIGIPAK 👉 https://www.darkmerch.com/blackbook
Details
☽︎ 🅆HITE 🅁ITUAL - Fall & Rise ☾
Just after dropping their debut album "In & Out", WHITE RITUAL are back with a very sensual music video! Enjoy "Fall & Rise" !
Wicca, Mysticism and electric atmospheres. This is what WHITE RITUAL stands for. Shaking up the french electro scene landscape is WHITE RITUAL's main quest! This darkwave foursome from Strasbourg sweeps away the stereotypes that restrict their musical vision of the 80s goth scene. Breaking old cliches of the darkwave scene, the French band with industrial, altpop and witchhouse influences takes inspiration from renowned artists such as KILLING JOKE, FKA TWIGS and CHELSEA WOLFE and mixes these with their own thrilling beats and melancholic melodies. Their lyrics dive into the complexity of human nature, life, love and death. A storytelling journey filled with mystery and magic.
Their new album 'In & Out' is the perfect example of their musical brilliance. The first song on the tracklist called 'Isis' immediately puts you in a dream-like state, in which you follow the whispers of frontwoman Coralie Setan into another world. The world of WHITE RITUAL. 'Light Glass' is an ode to the inevitable. The inevitable end of everything. The haunting vocals and melodic synthesisers support the deep lyrics and bring the song to life.